National Career
Development Month
NCDA promotes career development through its annual celebration of National Career Development Month. Every November, career development professionals are encouraged to celebrate with career related activities. In particular, NCDA sponsors an annual Poetry and Art Contest.
November 2021 is National Career Development Month.
November 15-19 is National Career Development Week.
November 17 is National Career Development Day.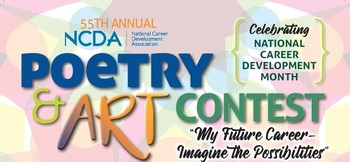 Celebrate National Career Development Month with the 55th Annual Poetry & Art Contest! This year's theme is "My Future Career: Imagine the Possibilities"! View the contest brochure for details and deadlines.
Entries will be judged on how they celebrate and inspire career development with a positive tone while emphasizing the national theme. Your ideas are valuable and worth celebrating!
Every adult and student enrolled school is eligible, as well as adult practitioners who are not in school. Entries may be either poetry or art. Contest divisions areas include:
Primary - grades K-2
Intermediate - grades 3-5
Middle - grades 6-8
Senior - grades 9-12
Adult Student - ages 18 and older, enrolled in school
Open Adult - ages 18 and older, not enrolled in school
The winning entries for each division will be recognized and displayed on the NCDA website in June, as well as at the annual Global Career Development Conference to be held in each summer. National winners will also receive from the National Career Development Association a special certificate.
See the NCD Month Contest Brochure for complete details about the 55th annual contest.
---

Questions? Contact NCD Month Co-Chairs: Morgan Ray and Tovon Hamilton or email NCDA headquarters: info@ncda.org
---
Congratulations to the winners of the 54th Annual Poetry and Art Contest! The contest theme: "My Inspiring Future Career". Click here to view the list of winners.
---
Each NCD Month entry must go through a state contest! If your state contact is not listed or your state is not participating in NCD Month, please contact NCDA Headquarters or e-mail the national chair for further instructions.
Quick Links
Art Contest Winning Entries