12/01/2020
Assisting Opportunity Youth in Developing a Winning Job Search Strategy in the Age of COVID-19
By Andrea Leszczynski
Barriers to employment and education exist for youth, particularly those deemed to be at risk. These barriers include living in a community that has limited financial and educational resources, having a disability, homelessness, criminal justice system involvement, having a mental illness, being a foster care youth and being a youth parent. Opportunity youth, considered out-of-school and out-of-work youth between the ages of 16 and 24, are facing these barriers to employment or education. Young people want to improve their lives, find employment, gain new skills, engage in the community and develop independence. They possess dreams like everybody else but, due to adversity experienced in their personal lives and surroundings, are unable to realize them without assistance. It is no accident that unemployment rate for this group is high when compared with youth in general and interventions by a trained career specialist could help address barriers to employment for opportunity youth.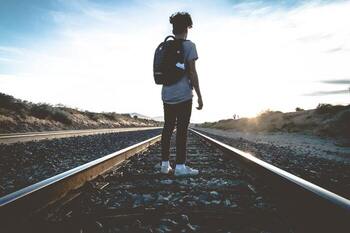 The unemployment rates for opportunity youth jumped significantly since the start of the COVID-19 pandemic and continues to rise. According to Pew Research, at the beginning of 2020, the share of Americans ages 16 to 24 who were disconnected from work and school mirrored rates from the previous year. However, between March and April, the rate jumped significantly, from 12% to 20%. By June 2020, 28% of youths were neither in school nor the workplace (Fry & Barroso, 2020). This is because the industries impacted by the pandemic were service industries such as retail shops and restaurants known to hire disadvantaged youth at higher rate (Gould & Kassa, 2020). This increase in the unemployment rate suggests that the barriers faced by opportunity youth is likely to persist without meaningful interventions from a knowledgeable career specialist.
The Pandemic's Impact on the Employment Process
COVID-19 has impacted the health and economy of the United States, forcing many companies not accustomed to a remote workforce to adapt and adopt new strategies to ensure a continuance of service for its customer base. Employers are more focused on problem solving, adaptability, flexibility and ensuring that their employees have adjusted to this new way of work life. Thus, today these employers are looking for employees who can adapt, are flexible, learn quickly, analyze problems and devise solutions, and take initiative while working remotely. According to Anish Majumdar, employers in today's climate are looking for technologically savvy essential employees. He considers essential employees to be those the employer urgently needs to solve a problem that it is currently facing. (Majumdar, 2020).
The unexpected COVID impact had a ripple effect on employment. The hiring process in the industries that tend to employ opportunity youth– retail, food service, janitorial services, and customer service-made significant adjustments. Providing exceptional service in these industries, while leveraging technology, became more important to retain and entice consumers so employers changed their hiring processes to overlook candidates that they do not consider essential to their post-COVID operation. Employers have implemented initial phone and virtual screenings before arranging for in-person interviews that now require various health and safety precautions. This means opportunity youth must be prepared to engage in professional communication through online platforms such as Zoom and WebEx, and monitor email regularly once they submit their online applications. Youth that lack access to these necessary resources and the skills to use them will continuously be passed over for employment, preventing them from obtaining the independence that they desire. Career specialists have the tools and skills to teach opportunity youth what employers are looking for and how to market themselves to employers.
Revising WIOA-funded Employment Training Programs
The Workforce Innovation and Opportunity Act (WIOA) was developed by the Federal government in 2014 "to strengthen and improve the United States (US) public workforce system and help get Americans, including youth and those with significant barriers to employment to pursue high-quality jobs and careers and help employers hire and retain skilled workers" (DOL, 2020). While there are significant COVID-driven changes to employment, WIOA has yet to make necessary adjustments to its training curriculum for youth in a COVID economy. While opportunity youth can easily navigate their smartphones, send texts and make videos, they are lacking in digital literacy as it pertains to today's job search process and the skills to navigating the employment process in a virtual world. As such, WIOA-backed employment training programs must update their curriculum to reflect current employer technology driven demands in a post-COVID world of work.
Innovative Ways to Update the Current WIOA Curriculum
The COVID-19 pandemic has presented a new challenge for career specialists, who may begin updating the current curriculum by incorporating the following ideas.
1. Industry Trends / Labor Market Research
Career specialists must study how employers are currently using technology to conduct business and hire staff before effectively assisting opportunity youth obtain and maintain employment.
2. Preparing Youth for an Effective Job Search
Opportunity youth must be able to communicate effectively through various means, e.g., videoconferencing, email, and in-person. Career specialists can help improve youths' communication and technology skills through workshops and role play then assist with online job search such as creating an attractive LinkedIn profile for networking and a resume that will compel an employer to phone youth for an interview.
3. Hosting Regular Workshops
Hosting regular interviewing and communication workshops once participants have completed the WIOA training program and are seeking employment will be beneficial. Career specialists could teach youth how to research employers, prepare for interviews, show value to employers, network, write thank you emails and follow-up.
4. Partnership with the Business Community
Partnering with the Chamber of Commerce can connect career specialists with business leaders. Business leaders can provide insight to what employers generally are looking for in their employees and provide insight on how to think like hiring managers when preparing for opportunity youth for interviews.
5. Access to Technology
To implement the above ideas, non-profit agencies can partner with city youth development agencies or community partners and businesses to acquire the necessary technology such as laptops or tablets and Wi-Fi service to lend to those youth that do not have access to them. For example, the New York City Department of Youth and Community Development issues laptops to contracted non-profit entities that then distribute these to youth.
Lowering the Unemployment Rate for Opportunity Youth
The COVID-19 pandemic has changed the way employers do business. Opportunity youth, despite barriers, can find and sustain employment with the right tools and assistance. Updating the WIOA curriculum to include training in the areas outlined above is vitally important and could lower the unemployment rate. Aligning the curriculum with the current job market is the first step. Career specialists can take a closer look at the current WIOA-based curriculum, modify it to the current economic climate, and teach youth how to function in the post-COVID world of work.
References
Fry, R. & Barroso, A. (2020, August 11). Amid coronavirus outbreak, nearly three in 10 young people are neither working nor in school. Pew Research. https://www.pewresearch.org/fact-tank/2020/07/29/amid-coronavirus-outbreak-nearly-three-in-ten-young-people-are-neither-working-nor-in-school
Gould, E. & Kassa, E. (2020, October 14). Young workers hit hard by the COVID-19 economy. Economic Policy Institute. https://www.epi.org/publication/young-workers-covid-recession
Majumdar, A. (2020, November 9). Career coach for the fiercely ambitious. https://www.helloanish.com
United States Department of Labor. (2020, November 26). The workforce innovation and opportunity act. DOL. https://www.dol.gov/agencies/eta/wioa
---

Andrea Leszczynski is an Employment and Community Services Coordinator with NYSARC, Inc/AHRCNYC under the New York City Department of Youth and Community Development's Train and Earn Program in Brooklyn. She works tirelessly with her program participants to advance their career readiness and life skills, help them devise career plans, and meet their employment and educational goals. She is also an avid street photographer and enjoys learning about people. She welcomes conversations about youth development strategies, community issues or photography and can be reached through LinkedIn – www.linkedin.com/en/andreavl
---