Career Developments Magazine
Attention NCDA Members: Career Developments - members-only quarterly magazine now online!
The Career Developments magazine and the journal, the Career Development Quarterly, are a few of the many NCDA member benefits. In response to requests for "going green," the print magazine is now available to all NCDA Members in a digital format, just like the CDQ!
Due to COVID-19 interruptions, the Summer 2020 is ONLY available electronically. Members can login and go to Members Only Resources to access the issue. The Fall issue will be combined with the Winter issue and released sometime in November (please watch here for release date).

---
We understand that many members enjoy holding the printed magazine in their hands after receiving it their mailbox. The print format is still available. Those in the United States may opt to receive the print version, at no additional charge. Those from outside of the US may elect to receive a print copy for $15 annually. This price covers the ever increasing cost of postage.
Please make your selection during your membership renewal process by using the membership form or accessing your profile under Members Only Resources.
Questions about this change may be directed to dpenn@ncda.org. We hope you enjoy the new digital option as your membership benefit!
---
"Rural Career Development"
Summer2020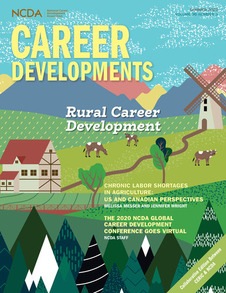 Rural areas across the United States are home to different cultures, people, businesses, and infrastructure, and are far from geographically or economically homogenous. However, since these rural areas are less densely populated and less connected to major centers of employment, they share common workforce development challenges.
In addition to our focus on rural workforce development, we have once again collaborated with CERIC to create a joint issue. This special issue will include columns that will also appear CERIC's Careering magazine. Articles that appear in both magazines are noted at the end of each column.
When we began preparing for this issue in late December, the idea of a pandemic, stay at home orders, social distancing, and an unemployment rate we have not seen since the 1940's was not on anyone's radar. As a result, the articles in this issue are not meant to address the impact of COVID-19, but instead were prepared to continue to provide NCDA members with useful information on an important topic, specifically workforce development.
---
Have you noticed some important changes to the magazine? Starting with the Winter 2019 issue, the magazine, the departments changed. Now we will not only offer our themed focus and feature article, but will include seven regular columns including:
Thought Leader Insights
Ethics in a Nutshell
On the Web
The Marketplace
Higher Education Highlights
Career Developments Bulletin
School Counselors
Our goal is to continue to provide timely and relevant information including insights on and analysis of current career counseling and development practice, theory, and resources.
Melissa Messer
Career Developments Editor
---
Members can read the full articles in the magazine.
Non-members are invited to join NCDA to receive this benefit, and lots more!
See the Table of Contents on the left sidebar. Watch your mailbox or login to the Members-Only section to view the current issue electronically.
---
Save
Save
Save
Save
Save
Career Developments
Summer 2020

Table of Contents
---
Focus
Chronic Labor Shortages in Agriculture: US & Canadian Perspectives
By Melissa Messer and Jennifer Wright
Feature
The 2020 NCDA Global Career Development VIRTUAL Conference
By NCDA Staff
Departments
Career Development Bulletin
How to Create Effective Online Career Workshops
By Diane Moore
School Counselors
Rural Schools: Making it Work
By Lori Olive
Higher Education Highlights
North America Looking to Diversity
By Scott Fisher and Kristen Kirkpatrick
Columns
From the President:
The COVID Crisis
By Kathy Evans
From the Executive Director:
Rural Workforce Development
By Deneen Pennington
Thought Leader Insights:
A Conversation with David Blustein
By Jenn Long Leard
Ethics in a Nutshell:
Ethical Practices for Working with Persons with Disabilities
By Sarah Patterson-Mills and Robin Gunn
The Marketplace:
Canada and the United States: Rural Workforce Comparisons
By Charles Lehman
On the Web
By Melanie Reinersman